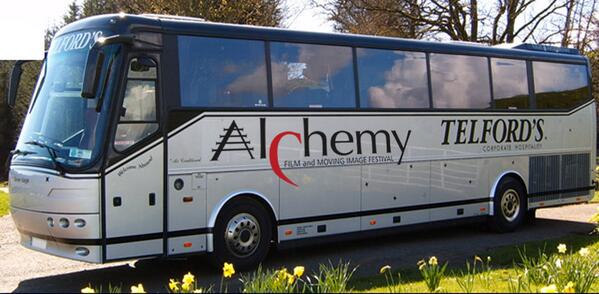 Get on the bus! Alchemy will be running a shuttle between Edinburgh & Hawick. The destination sign will no doubt
We will be attending the Alchemy Film & Moving Image Festival next week, which is held in the small Scottish Borders mill town of Hawick (pron. "hoyck"). Louise will be chairing a Filmmakers' Symposium, which kicks things off on Thursday 3rd, at 1400.
The festival runs from Thursday 3 to Sunday 6 April, and will feature the very best of experimental filmmaking, artist's films, underground films and generally the kind of thing you will not be able to see anywhere else.
Held in Tower Mill (AKA Heart of Hawick), the wonderful state of the art converted former mill, Alchemy will show new films by the Brothers Quay, Patrick Bokanowski, Robert Todd,
Nathaniel Dorsky, Alberto Gracia, Chai Chunya, Rachel Maclean, Siobhan Davies and many others.
Live events will include Rocio von Jungenfeld's Film Walk, multi-projector performances from Nominoë and Jacques Perconte and a film-rant by Duncan Reekie.
More info can be found at Alchemy's
website.
You can also get a taster of this year's Alchemy at the
Hidden Door Festival
in Edinburgh this Friday, 28 March. More info
here.